Phoenix
(…Continue P3 ) Hardaway's return should bolster lineup
SG Penny Hardaway, who played in 15 games and missed one because of a suspension before going to the bench with a foot injury, has made little impact. The Suns got him to give PG Jason Kidd some help and transform a club that has disappeared from the playoffs in the first round into a Western Conference contender. That hasn't happened. Even when Hardaway was playing, he did not assert himself offensively as he tried to integrate his game with Kidd's. Without Hardaway, the Suns barely were able to remain among the top teams in the West But he will be back, and he's a playmaker who can create shots for himself and his teammates. He creates matchup problems for defenses because of his post-up ability. The Suns have missed that.
SECOND-HALF GAME PLAN: The Suns must get more from their center. Luc Longley has had some good moments but too often is out of position offensively. Oliver Miller offers a different dimension, a big man who can pass and block shots, but he has gamed weight Both have tried the patience of coach Scott Sidles. Don't be surprised to see Corie Blount's role expand if Longley and Miller don't get better quickly.
Portland
Team is content as long as it's winning
Minutes, shots and style. Those things could be irrelevant–or they could wind up being issues that tear at the team enough to pull it away from the championship. As long as the club continues to win three out of four games, there will be little bickering over playing time, who gets to handle the ball and what tempo the team plays at. A couple of losing streaks, however, would test players' commitment to the system.
SECOND-HALF GAME PLAN: Coach Mike Dunleavy continues to ponder a change in his starting front line. He could go back to last season's formula, starting Brian Grant at power forward and be bringing Rasheed Wallace off the bench. The advantage is Wallace can be a substitute for three positions and is better than Grant at pressing, trapping and playing full-court defense, all things the reserves like to do. On the other hand, Wallace is the superior scoring threat and Grant has not gotten into condition to play hard in long stretches. Another possibility is to bring C Arvydas Sabonis off the bench, starting Grant. But the Blazers prefer starting Sabonis, when he is warmed up, rather than having his chronically sore and slow feet and legs come in cold.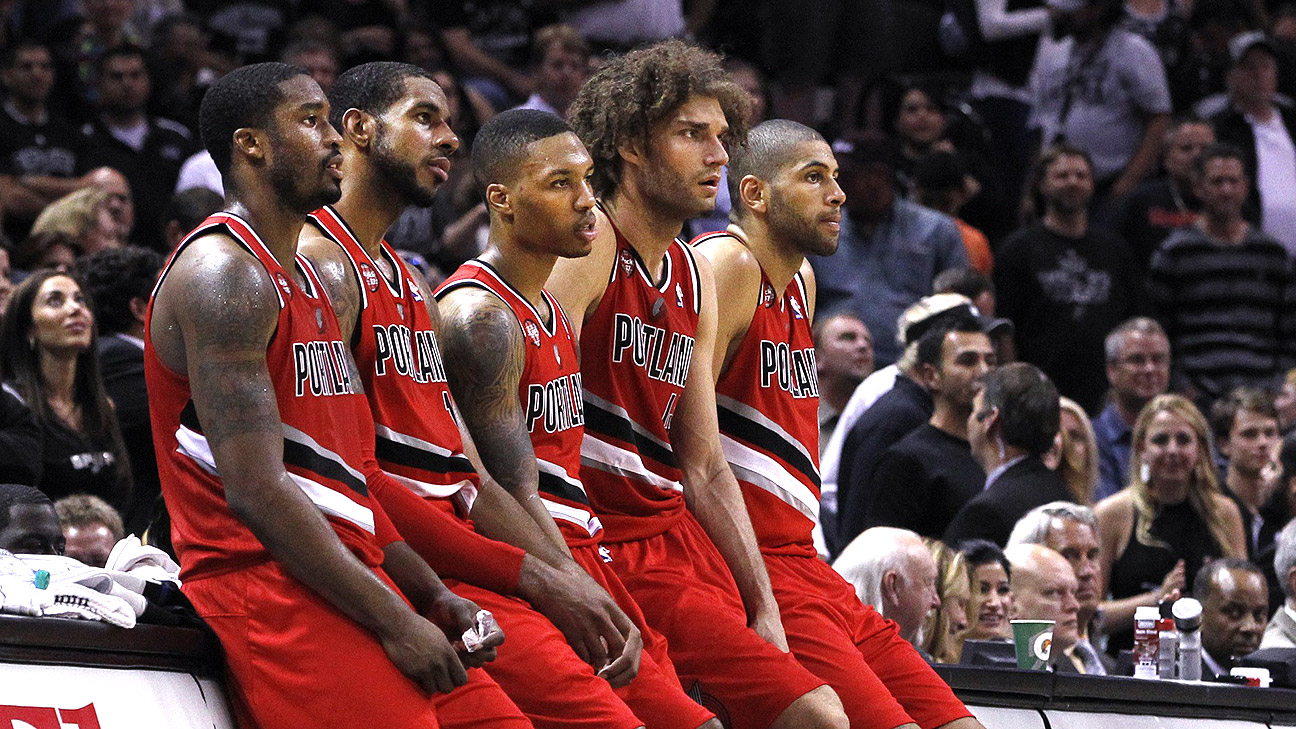 Sacramento
Patience on offense will help balance at both ends of floor
When the Kings play an intelligent, patient offense, they are difficult to beat. When they move the ball and don't rely on individual talents, they put their best foot forward. It's when they do not use patience and begin to hoist shots at the first whim that troubles begin. The offense disintegrates into wild jump shots that prevent it from going inside to PF Chris Webber and C Vlade Divac–where the strengths are and the balance begins. That allows the Kings to get to the free-throw line, space the floor and get shots from the perimeter. The patients also allow the defense to get in a balanced form and not give up easy shots.
SECOND-HALF GAME PLAN: The Kings appear set for a first-round home-court playoff advantage. Coach Rick Adelman has established a solid rotation of 10 players and has done a good job using them in different combinations. As the highest scoring team in the league, the Kings will remain exciting and always a potentially lethal opponent, but until the defense reduces the number of easy baskets it allows, the team will struggle on the road.
San Antonio
Without Elliott, small forward has become a big problem
Without F Sean Elliott, the Spurs lack an athletic presence on the perimeter. Elliott could break down an opposing defense off the dribble. The Spurs–who have tried Chucky Brown, Jaren Jackson, Malik Rose, Tim Duncan and Mario Elie at small forward with little success–need someone who can create scoring opportunities for his teammates. Teams have had little trouble shutting down the perimeter game. If Elliott can't return after the All-Star break, a trade is possible.
SECOND-HALF GAME PLAN: Duncan has dominated and C David Robinson is scoring, but it's not enough. The halfcourt offense is stagnant. A personnel change may be the only hope – the team has talked to the Raptors about Doug Christie. Elliott has been cleared by his doctors for full contact, but his stamina must improve before he suits up for games. The team may wait to see how he progresses before trying to make a deal. The remainder of the season will be critical to the franchise's future. The Spurs must convince Duncan, who will be a free agent, they will be competitive. If not, he might sign with Orlando.
Seattle
Team won't go far unless it gets more production inside
The undersized Sonics have no inside scoring. C Vin Baker, supposedly the best offensive threat in the paint, often hangs out on the perimeter, settling for jumpers. That strategy is acceptable for Cs Horace Grant and Greg Foster. Foster has limited offensive moves in the paint, but his midrange jumper punishes teams when they double PG Gary Payton. But Baker can't stop scoring droughts with an easy basket or free throws when he refuses to bang inside. C Jelani McCoy, aggressive near the basket with his shot blocking and rebounding, could help, but mistakes often limit his effectiveness. Barring a trade, the Sonics will enter the postseason–all about quality possessions, many in the paint–with this weakness.
SECOND-HALF GAME PLAN: Look for McCoy and F Rashard Lewis to see more playing time. They are the team's young players with the most ability and confidence to make an impact off the bench. SG Vernon Maxwell, who still is healing from right knee surgery, is key. The team needs his scoring punch off the bench. The team must continue to play to its strengths: running, rebounding and forcing turnovers.
Utah
Gilliam should provide boost off bench, but he needs help
A burning issue for the Jazz has been its lack of depth off the bench. Utah's reserves have had an especially hard time scoring. When PF Karl Malone and PG John Stockton take breaks, opponents usually go on scoring runs. The recent addition of veteran big man Armen Gilliam, who provides an inside scoring presence off the bench, should help in the second half of the season. Other bench players who must step up are swingman Quincy Lewis, C Greg Ostertag, and G Howard Eisley.
SECOND-HALF GAME PLAN: Utah thinks it can win the Midwest Division battle against the Spurs. Look for SF Bryon Russell, Utah's only starter not 35 or older, to have a big second half. Expect his career-best 13.7 scoring average to be up around the 15-point mark by the end of the season. Gilliam will be Malone's primary backup at power forward. He and Malone will play together when the team wants extra inside scoring punch. Malone has been averaging 37.4 minutes per game. That number will be reduced by a minute or two because of Gilliam, so Malone should be a bit fresher come playoff time.
Vancouver
Return of veterans, improved play reasons for optimism
The club must find a way to execute its game plan and not get flustered in the fourth quarter. Its problems extend more specifically to the final few possessions in each game. Since Lionel Hollins replaced Brian Hill as coach, the team has showed signs of maintaining its composure in those situations, winning four of five games on a recent swing. Still, there are times when it struggles in the final minutes of winnable games. The problems early in the season stemmed from the team's youthfulness, but there has been progress because the injured list has thinned and the veterans and young players are more comfortable playing together.
SECOND-HALF GAME PLAN: The team is looking at the second half as a new beginning. Key among the reasons for optimism: the play of PG Mike Bibby, SG Michael Dickerson and SF Shareef Abdur-Rahim. The shift toward a more up-tempo attack that features the scoring talents of the young trio has proved fruitful. Though C Bryant Reeves is getting fewer minutes, he still plays a vital role in establishing the team's presence to begin games.