I think we can work it out, but this great new rod is made of materials that are part of a rapidly evolving technology. My rod may be obsolete by Thanksgiving. I may be given cause to worry that the modulus of elasticity of my new rod may be trailing others. I'm actually capable of thinking about crap like that. I kind of like it. The other day, I put this soulless wand away for the day and, instead, fished with that fine old bamboo I've had for several decades. By comparison, this beautiful wooden shaft with highly individualized handwork and matchless esthetics was a complete dog to cast. Someone compared the classic action of a bamboo rod to a cow pulling its foot out of deep mud. This one was better than that; but compared to the disco rod with the cheesy graphics and porous grip, it was pretty much of a dog.
Gough Thomas, the English gun writer, warns against the vice of "poly gunning," which means using too many guns and becoming master of none. I could point out that this same malady afflicts anglers; but what's the use? We'll always have too many rods, but back to my topic: A trout fisherman can do it all math a nine-foot for a 6-weight line.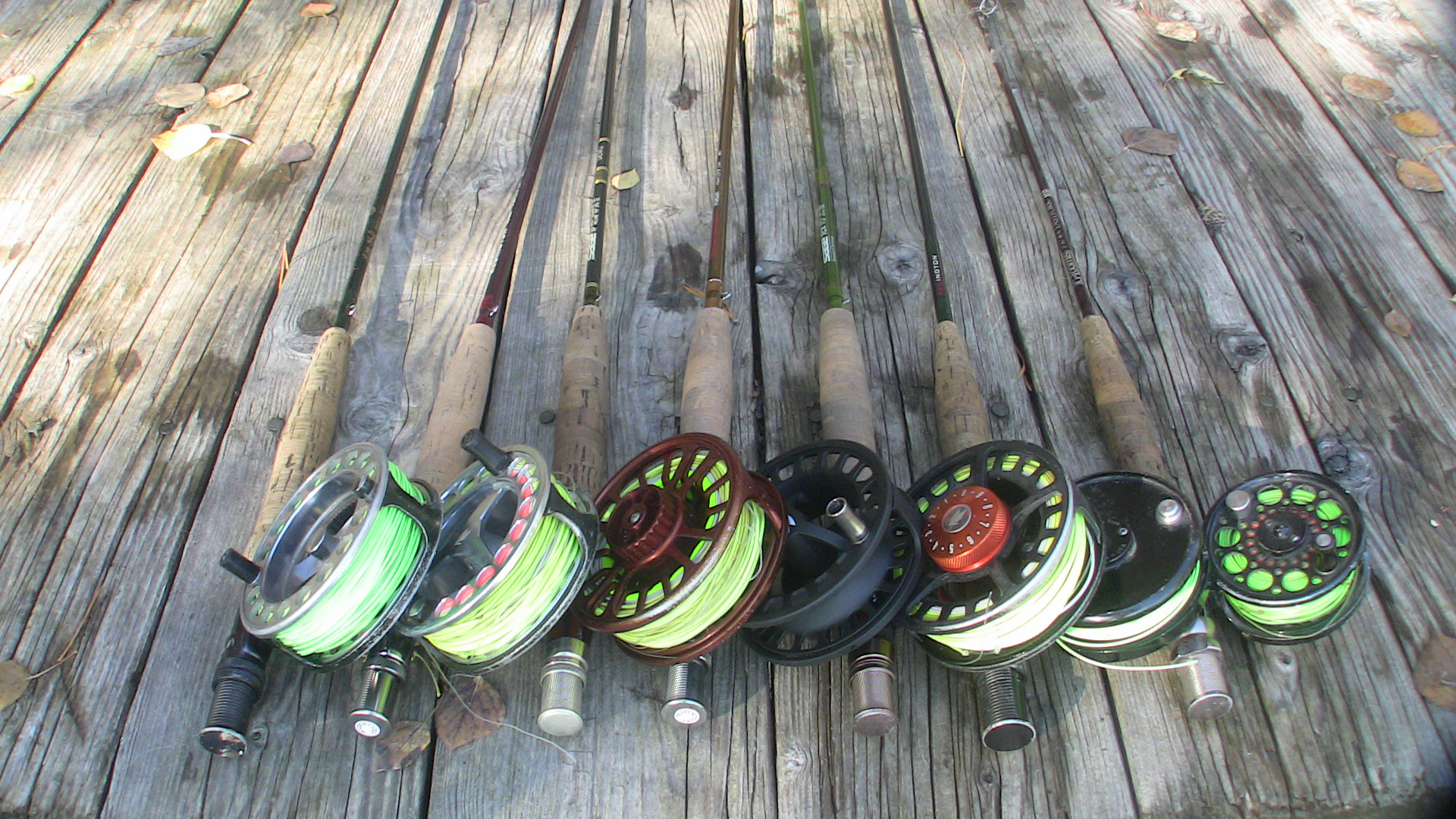 A nine-foot for an 8-weight line will cover most of the rest. If the angler is a fisher of riverine salmonids, those two rods will cover it all. The 8 will do perfectly for bonefishing and for small tarpon. I have seen tarpon over 125 pounds landed on 8-weights. It's an ideal snook and redfish rod. For repetitive casting as demanded in steelhead and salmon fishing, it's as much as most of us want to cast all day long. Plenty of people use their 6-weight rods for steelhead.
I know, nobody's listening. But this is very good advice. Is it because I have about 20 flyrods?
Let's see what my excuses are. I have an eight-foot Garrison for a Size 6 line. I keep this and still use it because it is so full of fishing memories. It was owned for years in the middle of its life by my former brother-in-law. I had to buy it back from him and he did well in the transaction. I also keep it because I remember my consultations with the builder and the giddiness of those years when there was relative, so few, of us fly fishing.
I have a 6-foot 3-inch Bob Summers "Midge" because it reminds me of my original fly shop, Paul Young's, where Bob originally did his beautiful work. Also, it reminds me of the follies of A.J. McClane and Arnold Gingrich and Lee Wulff when they were promoting these impractical flea rods and suggests that even the very great are prone to foolishness.
I have a 4-weight nine-foot Light Line Sage which is, to me, so far the most exquisite use of graphite I'm familiar with in a spring-creek-type rod. With this rod, I caught my best public-water dry-fly trout, last June, after 45 years on the job: a 25 1/2-inch male brown, on a Size 20 Pale Morning Dun, from Silver Creek near Ketchum, Idaho. I think this rod kept me from breaking the 6X tippet and from suffering the avalanche of grief that would have followed the loss of that fish.
I have an 8 1/2-foot Winston for a No. 5 line. I have followed this rod throughout its evolution of materials. This one is of IM6 graphite. To me, it is the 5-weight trout rod against which all others are measured, although the Scott of the same size is right in there. These are the best rods for the small freestone rivers of the kind that I fish. I do most of my trout fishing with this versatile rod.
I have a 7 1/2-foot bamboo rod for a 5 line built by John Long, a gift from a builder I've never met. A fine piece of work and an extremely pleasant small-stream rod.
I have a 7 1/2-foot Payne, a two-piece, for a 5 line because I always wanted a Payne and even named the hero of one of my novels after this maker. I consider Payne to be the finest cane-rod budder of all time. When you pick this rod up you can tell everything you need to know: It's startlingly good.
Now the rod I discussed earlier: a nine-foot 6-weight Loomis GLX, a tremendous flyrod, designed by Steve Rajeff and otherwise a thoroughly impersonal artifact. The guides are single-footed; there is glitter thread in the windings; the reel seat is air-weight spun nylon. It's the flyrod as pure idea. It tracks perfectly, dampens perfectly; the action seems to progress through infinity without ever hitting bottom. You forget about the rod and think about the line. I don't think it weighs three ounces. I can fish big western rivers for 10-hour days and never feel I brought the wrong rod.
I have an 8-foot 9-inch Russ Peak Zenith for a 7 line. Russ Peak understood what could be done with glass better than anyone. He was the ne plus ultra rod maker in the 70s when I was fishing 200 days a year; so there is sentimental value. By today's standards, it is a deliberate rod that requires the angler to recalibrate his timing somewhat. When I fish it, usually on the Yellowstone in the fall, I quickly fall back into its rhythms. it is perfectly built.
I have an eight-foot-nine Winston cane rod, for a 7, goes best with a Wulff 7/8, that was built by the great Glenn Brackett and was a gift of the Winston Rod Company. I enjoy fishing this rod enormously. It is entirely in the spirit of the West Coast glory days in steel heading when Winston and Powell were kings. I can accept the extra weight of the rod because of the time between casts in steel heading. It is a great roll casting or single-handed Spey casting rod.
A nine-foot two-piece Payne light salmon for an 8 line. I just traded for this rod. It's beautiful with a detachable fighting butt and ferrule plugs. It weighs the same as a 13-weight billfish rod. What will I do with it? I've got to come up with something.
The 8-weights and the age of excess: A Sage eight-foot-nine for an 8 line, a wind-penetrating bonefish rod, doesn't seem to be good for anything else I do. A Sage nine-foot for an 8-weight, the 890 RPL, as much of a classic as the old Fenwick FF85. A Loomis four-piece nine-foot for an 8, an outstanding travel rod, an outstanding rod, designed by Steve Rajeff and Mel Krieger, the only rod I know of better in the multipiece than in the two-piece.
A nine-foot for a 10-line Winston graphite, my faithful permit rod. it is somewhat sluggish by current standards but seems to absorb the vagaries of big, heavy permit flies better than stiffer rods. It's a good all-around striped bass rod too.
A nine-foot for an 11-weight Sage built for me as a gift by George Anderson. I use a 12-weight line on this rod and it is a rod adequate for big tarpon, used carefully, which will not wear me out on active days the way the 12 does. It is simply built. no fighting grip, and is full of happy memories. I couldn't replace this rod, though the 12s and 13s are nicer after the fish is hooked.
I think I will leave out my. three Spey rods. I have some good single-handed steelhead and salmon rods but I may never go back to them. The spey rods just work too well.
I subject the reader to this inventory for two reasons. First, I myself love to read this sort of thing, sniffing around the author's tackle room; and second, to suggest that there is something at work here that has nothing to do with necessity but rather with the elaboration of the dream that is fishing.
Most reels are sold to the public by suggesting some unheard of the emergency involving a running fish and guaranteeing that this product is the only available product capable of bringing the potential trophy to a standstill before it changes area codes. Right now there is a large variety of magnificent reels available. Most have one thing in common: They are far better than they need to be. There hasn't been much evolution in reels. The 90-year-old Vom Hofes are still among the best.
The backing of a trout reel usually dies of old age before it sees the light of day. It's rare for a salmon or steelhead to go 100 yards, though most reels designed for this fishing carry a quarter of a mile of backing. If a tarpon, permit or bonefish gels more than 100 yards from you, you've got problems that have nothing to do with your backing. The last time I got spooled was on Henry's Fork when a big rainbow got downstream of me where I could not wade after it. It didn't matter how much backing I had. I was meant to view the spindle.
I don't know about the great drag systems either. I don't think any freshwater reel needs a drag at all. A good, strong click will suffice. Anyone who is not enough of a hand to palm the reel or put a couple of fingers through the arbor is already fighting a fish too big for him. (P3-Ends)